Middle-ground supermarkets struggle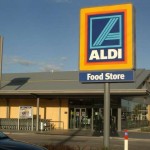 An interesting divide is occurring during these pinched times. At the top end Waitrose and Marks and Sparks are doing well, and at the bottom the likes of Lidl and Aldi are also having a bumper year. Everyone else, it seems, is having a bit of a miserable time – a strong example of the increasingly yawning rich/poor divide in this country.
Chef assaults staff after visit from AA Gill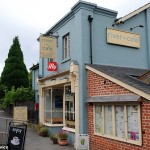 A chef was in barney this week after pushing an employee down the stairs. During this year's Hay Festival AA Gill visited Hay's own River Cafe and, when asked how his meal was, pronounced it 'disgusting'. Cue a livid chef who reckons he makes Gordon Ramsay look tame, and a member of staff tumbling down the stairs. The chef was given an 18-month conditional discharge.
Domino's launches gourmet range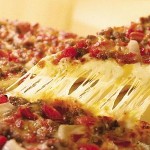 Domino's, merchants of greasy, plastic cheese on greasier, somehow fudgy bread have launched a 'gourmet' range to appeal to 'food snobs'. The Rustica has bacon on it, that favourite Italian ingredient, while the Florentine has feta cheese slapped on top. So, Young and Foodish, when's the next pizza tuesday?
*****
Other food news this week:
* Alex James eats human sausages.
* Young's to launch Jamie Oliver range.
* Food Network agrees to stop cooking shark meat.
* Tim Hayward's bakery, Fitzbillies, opens today in Cambridge.
* Panda gets a shock when shown the bill at the Gilbert Scott (via @chrispople).
*****
Piece of the week:
* Sam Herlihy, ex-Hope Of The States frontman, writes just sublimely. In this piece he somehow weaves a trip to Italy with a magnificent pwning of Chris Martin.
*****
Video of the week:
* I wish David Attenborough was more like this guy: