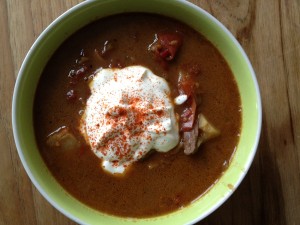 Some time ago the delightful Leisa at Donald Russell sent me some oxtail, since when it has sat, as things tend to, in the freezer, looking unloved and puppy-eyed every time I reached for the ice. Now that winter appears to have arrived, it seems about the time to wallow in its rich, sticky depths.
Serves 4-6
5 pieces of oxtail
1 onion, peeled and chopped
1 clove of garlic, peeled and finely chopped
1 stick of celery, finely chopped
1 carrot, peeled and finely chopped
1 dried chilli, finely chopped
1 tsp smoked paprika
1 litre beef stock
1 large floury potato, peeled and chopped
2 tomatoes, roughly chopped
Sour cream
***
– Heat a little oil in a heavy-bottomed saucepan and brown the oxtail on both sides. Remove. Add a little more oil and gently fry the onion, garlic, celery, carrot, and chilli until softened. Return the oxtail to the pan along with the smoked paprika and the beef stock. Bring to a boil, cover and simmer gently for 2 hours.
– Remove the meat and rest for a few minutes, then strip the meat from the bone (it should fall away quite merrily) and return it to the pan, along with the spuds and tomatoes. Simmer for another 20 minutes or so until the spuds are cooked. Serve now, or later, or tomorrow, with a blob of sour cream and a sneeze of smoked paprika.