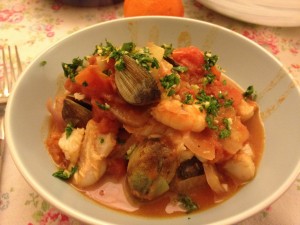 Can't be arsed with a preamble. Too much to do. This recipe rocks and is Dukan-friendly etc.
Serves 4
2 red onions, peeled and roughly chopped
1 clove garlic, peeled and finely sliced
1 head of fennel, trimmed and chopped
A piece of orange peel
A dried red chilli
A big glug of vermouth or Pernod
A handful of cherry tomatoes
A tin of tomatoes
500g white fish, chopped into chunks
200g raw prawns
A handful of clams
For the gremolata
A bunch of parsley, finely chopped
A clove of garlic, finely chopped
Zest of a lemon
- Heat a drop of oil in a large saucepan and gently fry the onions, garlic and fennel with a pinch of salt until softened. Ten minutes should do it. Add the orange peel, chilli, and vermouth, and simmer for a couple of minutes before adding the tomatoes. Cover and simmer for five minutes until the cherry tomatoes have softened but haven't broken down entirely. Add the fish, stir, cover and simmer gently for 5-10 minutes until the clams have all opened and the fish is cooked.
- Meanwhile make the gremolata by mixing the parsley, garlic, and lemon zest. Season the stew with a generous scrunch of pepper and serve with a sprinkling of gremolata and, if you're not a tedious Dukan groupie, some crusty bread.