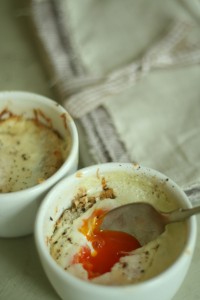 For me one of the most decadent and delicious breakfast dishes is eggs benedict. Is there a better way to say 'good morning, I love you' than toasted muffin, crisp pork, and soft poached eggs bespattered with silky hollandaise? Arguably not.
But it's quite an involved dish, requiring several components that need to come together simultaneously. Not what you want on Valentine's when you should be cooing and eye-fluttering. Romance rarely arose from a hunched lover sweating and gurning over a crowded hob. No, the placid cook is the best romancer.
This recipe offers the same level of creamy indulgence as eggs benedict without the headache. And we all know the effects of an unexpected headache can have on passion's early flickerings.
Serves 2. Obviously.
Butter, about 15g (steady, Marlon)
2 slices of brioche
2 slices of smoked ham
2 Clarence Court Burford Brown eggs
100ml double cream
Parmesan cheese, grated
Salt and pepper
***
–       Preheat the oven to 200C.
–       Generously butter two ramekins. Trim the brioche to fit in the bottom and gently thumb it in. Do the same with the ham. Break the eggs over the top and finish with the cream.
–       Scatter with parmesan and season generously with salt and pepper.
–       Bake for 12 minutes until the egg is just set. Serve with toast and a kiss.
I am a brand ambassador for Clarence Court.