Today we have a recipe from the lovely Lucy Neuburger, and it's just the thing for a hot day. Over to Lucy:
***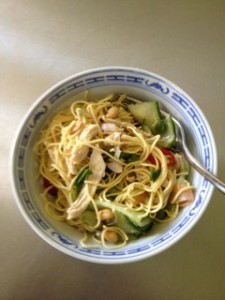 Serves a very greedy 1 person, though can easily be multiplied

For the salad

A handful of leftover roast chicken, sliced or shredded
1 shallot, finely chopped
1/4 of a cucumber, peeled into ribbons
1 small carrot peeled into ribbons
1 red chilli sliced thinly (I tend to add more, but I like my spice)
1 nest of dry noodles
 For the dressing

Juice of 1 lime
Splash of fish sauce (or soy sauce if you prefer)
1 teaspoon of brown sugar
Mint, coriander and a few roasted peanuts to garnish
Method:
Could not be easier!
1) Cook noodles according to packet instructions, drain, run under cold water and set aside.
2) Combine all the salad ingredients along with the noodles in a large bowl.
3) Mix the dressing in a mug or small jug and add into bowl, mixing everything together until well combined.
4)  Serve garnished with chopped mint, coriander and a few peanuts.