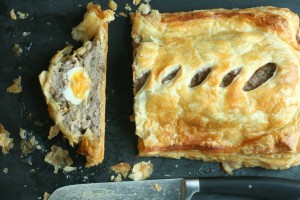 Last week a box full of Clarence Court eggs arrived looking like something from the set of Jurassic Park. A vast ostrich egg (as yet untested), a couple of slightly smaller rhea eggs (this is a rhea), some turkeys, pheasants, guinea fowl and quail, all perched in the kitchen awaiting instructions. A scrambled rhea egg served four hungry people for breakfast, and now sits on my desk like a weird trophy. I might draw a face on it. Quail eggs went into this delicious soup.
And then on Sunday, while eyes were glued to what can only be described as a glorified and badly commentated regatta, I produced this specimen. Think of it as the happy lovechild of a poacher's roll and a gala pie, with a little scotch egg DNA thrown in for good measure. It's just the thing for a picnic.
If you can't find pheasant eggs try and get hold of some bantam eggs instead, or failing that, 4 hen's eggs will do. Serve with a green salad and some new potatoes.
*****
Serves 6
8 pheasant eggs
800g sausages
1/2 tsp cayenne
4 sage leaves, finely chopped
A small handful of parsley, finely chopped
1/2 tsp finely chopped thyme leaves
500g puff pastry
A beaten egg
Salt and pepper
***
– Bring a pan of water to a boil and boil the eggs for 4 minutes. Plunge directly into cold water and leave.
– Skin the sausages and mix with the herbs and a good pinch of cayenne. Season with salt and pepper.
– Peel the eggs carefully. There may be casualties. Try to get past these. If you want to make a sausage and pheasant egg picnic pie, you've got to break some eggs, as they say.
– Divide the pastry in half and roll half of it into a rectangle that fits in a baking tray. Flour the baking tray and lay the pastry on top. Add a layer of sausage meat, leaving a little space around the outside. Put the eggs down the middle, making a little groove with your thumb as you go for added stability.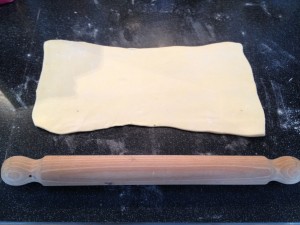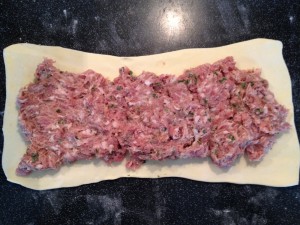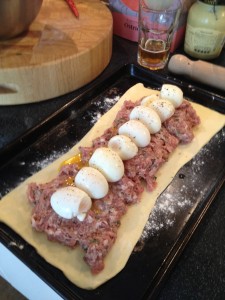 – Now gingerly build the remaining sausage meat around the eggs.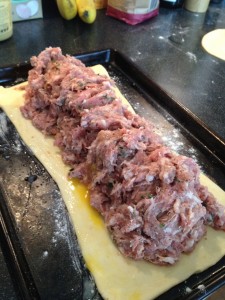 – Roll out the other half of the pastry. Brush the edges of the first sheet with beaten egg and lay the other sheet of pastry over the top, pressing to stick and crimping to pimp. Now brush all over with egg and make a few slits in the top. Chill.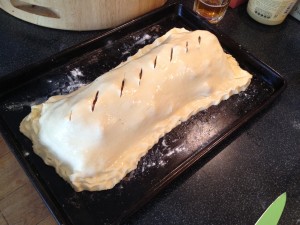 – Preheat the oven to 200C. Bake for 25-30 minutes, rest for a few minutes and serve, or leave to cool for a picnic.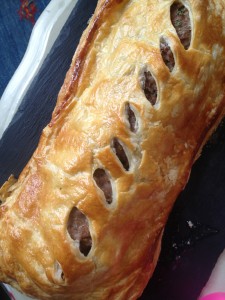 This recipe was developed for Clarence Court.