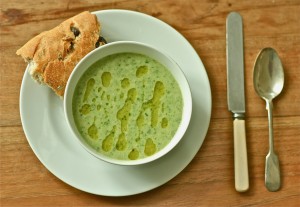 The rain pelted down as I cooked this, hence the addition of a thickening and warming potato.
Today the sun is out and I am eating it cold and, while delicious, it seems rather too thick and heavy.
So, sunny day = no potato, rainy day = potato. Oh and if you can't find/hate lovage, substitute with 100g watercress – you'll need to separate leaves from stalks and add the stalks with the lettuce.
*****
Serves 4-6
1 onion, peeled and finely chopped
1 clove of garlic, peeled and sliced
1 medium potato, peeled and diced (optional)
1 head of lettuce – about 500g, sliced
1 litre hot chicken or vegetable stock
50g lovage leaves
50g parsley
25g butter
Salt and pepper
Olive oil
***
– Heat a little oil in a large saucepan and add the onion. Season with salt and pepper, cover and cook until soft – about 10 minutes. Bung in the garlic, spuds, and a good splosh of water, cover and cook for 10 minutes until the potatoes are thinking about being cooked.
– Throw in the lettuce and stir over a medium heat for a couple of minutes until wilted, then add the stock. Bring to a boil and add the lovage, parsley, and butter. Simmer for one minute, then blend until smooth. Pass through a sieve if going for a clean green number, otherwise just check for seasoning and serve.