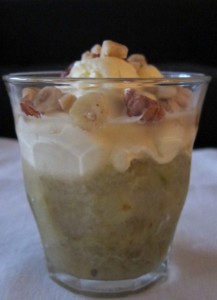 If you love rhubarb, chances are you also appreciate gooseberries which share an acidity that people seem to either love or hate.  This acidity does mean both fruits need quite a bit of sugar to make them palatable.  You could add a leaf or two of the herb sweet cicely which is a natural sweetener and reduce the amount of sugar.  At this time of the year gooseberries have a grassy tartness which I love.  A few weeks from now they will have mellowed to a yellow gold colour and need less sugar.  There are a few red varieties around which are sweeter but green is good for me.
A creamy syllabub complements the poached fruit perfectly.  Wine or elderflower cordial to flavour the syllabub?  The choice is yours.  If you opt for elderflower then you might want to leave it out of the poached gooseberries.  Originally, syllabub was a frothy drink made by milking directly from the cow into a bowl of wine, cider or ale – well I'd try it given half a chance!
RECIPE for 4-6 servings
100ml sweet white wine or elderflower cordial
Finely grated rind and juice of 1 lime
50g caster sugar
300ml double cream
600g Gooseberries
125g caster sugar (if you add sweet cicely, reduce the sugar content to around 100g, taste and adjust
as necessary)
2 tablespoons elderflower cordial
50g hazelnuts, toasted, skins removed and roughly chopped
Mix the first three ingredients together and leave to stand for several hours or overnight so that the flavours are fully blended.
Wash and top & tail the gooseberries.  Gently melt 125g caster sugar and the elderflower cordial in a heavy based pan and add the gooseberries.  Cook gently until the fruit is soft but not mushy (about 10 minutes).  Leave to cool completely then refrigerate.
Start to whip the double cream and, as you do so, add the liquid.  Continue until soft peaks form (the mixture will stiffen further in the fridge).  Spoon gooseberries into serving glasses top with the syllabub.  Refrigerate for at least 2 hours (will keep in the fridge for at least 24 hours) and, when ready to serve, scatter with the toasted hazelnuts to add texture.
About the author:
Evie
I grow, cook, eat out, seek the best food producers at home and abroad and write about food and related issues. My background is diverse, including design and horticulture, but that little food devil refuses to get off my shoulder. It's led me to Cordon Bleu cookery school, food guide writing, courses in ice-cream and cheese making, bakery stints and food history research projects. My heart is in London but my allotment keeps my feet in the mud to ensure I never lose contact with the importance of the food we produce. Blogging about food is one outlet for my passion and it allows me to connect with others who feel as I do.
Photography: Evie
My blog: www.saffron-strands.blogspot.com
Follow me on Twitter: @EvieSaffronS