Sainsbury's is launching a new range of speciality ingredients with such alluring products as chipotle chilli paste, tamarind, and galangal paste. Here are a couple of recipes using some of these products.
Jerk chicken wings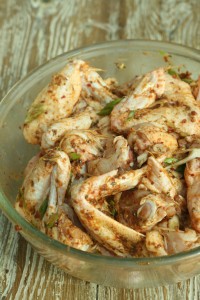 I can think of few finer morsels on which to gorge in front of the TV. And, oh look, the football season starts tomorrow. These are best cooked on the BBQ though the oven will do a decent job. 
Serves 4-6
20 chicken wings
A jar of Sainsbury's jerk paste
4 spring onions, finely sliced
A glug of olive oil
A pinch of salt
Half a lemon
Method
Mix all the ingredients together in a large bowl. Cover and chill for as long as you can – a day ideally, an hour sufficient.
Fire up the BBQ or preheat the oven to 200C. If barbecuing, grill for 45 minutes to an hour, turning regularly. If it's a kettle BBQ, cook with the lid on but the vents open.
If using an oven, roast for 45 minutes to an hour, until slightly charred and sticky.
Serve with napkins.
Braised lamb shoulder with preserved lemons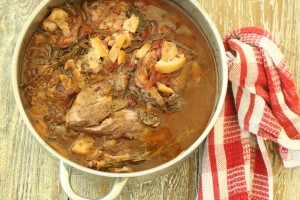 Low and slow is the trick here. Rush this and your lamb will be tough and dry, instead of soft and melting. The preserved lemons add a lovely acidic, summery note. You can do this a day or two ahead, if you like. 
Serves 6
1.2kg lamb shoulder steaks
2 red onions, peeled and sliced
4 cloves of garlic, squashed
350ml red wine
A tin of tomatoes
A couple of sprigs of rosemary
A few anchovy fillets, roughly chopped
A jar of Sainsbury's speciality ingredients preserved lemons
Salt and pepper
Oil
Method
Preheat the oven to 170C.
Heat a little oil in a frying pan until good and hot, then in batches brown the lamb on both sides, seasoning with salt and pepper as you go. Transfer to a large saucepan. Add a drop more oil and gently fry the onion and garlic until softened. Transfer these to the saucepan too, then turn up the heat under the frying pan and add the wine. Bring to a boil, scraping up any stuck bits of meat – these will add great flavour to the dish – then add to the saucepan along with the tomatoes, rosemary, and anchovy. Roughly tear the preserved lemons and add these to the pot. Cover and cook in the preheated oven for 3 hours.
Remove and leave to sit for 15 minutes before serving, or leave to cool and refrigerate, and warm through before serving.
Serve with whatever you fancy. We had polenta and braised radicchio.
This is a sponsored post.