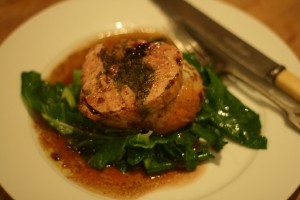 Hearty autumnal greetings, and a lively shake o' umbrella unto ye all. My absence these past two months has been principally down to having my face stuck somewhere between my laptop screen and my oven, while I finished the follow up to last year's Small Adventures in Cooking (available in all fine bookshops. Or on Amazon). I feel like Dr. Johnson.
Last night I revisited Jacques Pepin's poultry boning method and performed it on a guinea fowl. It is a hugely rewarding piece of work resulting in an evenly cooked and juicy bird and the easiest bit of carving you'll ever do.
Serves 4
1 guinea fowl
A big fistful of parsley
A palmful of breadcrumbs
A clove of garlic, crushed
Zest of a lemon
Plenty of salt and pepper
Olive oil
Red wine
Stock or water
– Debone the guinea fowl as per the instructions in the link above. This is a genuinely entertaining process. Finely chop the parsley, or whiz in a blender with the breadcrumbs, crushed garlic, and lemon zest. Mix with olive oil until it forms a paste.
– Pack the legs and wings of the bird with the stuffing, then form the rest down the middle in a sausage shape. Roll up and tie with string. Cover and refrigerate until needed, or preheat the oven to 190C, drizzle the bird with olive oil, salt and pepper, and roast for 35-40 minutes.
– Remove from the oven and place on a warm plate. Leave to rest while you make the gravy. Put the roasting tray over a medium-high heat and add a splosh of wine. Simmer for a couple of minutes, scraping up all the roasting juices, then add the stock. Simmer for another few minutes until thickened.
– Carve the bird into four thick pieces and serve.