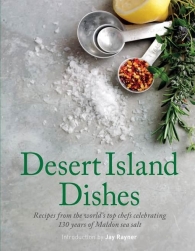 Earlier this year I did a series of short films for Maldon sea salt, interviewing various folk from the meeja world about their "desert island dishes". The flat was turned upside down while a film crew large enough to cover migratory patterns of Arctic cod (do Arctic cod migrate?) moved in, and I sat there like a lemon and cooked a few bits and bobs while chatting to the slebs. A bit like James Martin but without the experience or the come-hither eyes.
Here's the interview with India Knight:
Maldon have published a cookbook based on the concept of Desert Island Dishes. It has a foreword by Jay Rayner, so you know it's good.
And you can win a copy right here. Just comment below with your most impractical desert island dish. The top three most extravagant will win a copy of the book*.
Toodles x
*Competition closes at midday on Friday 16th November.