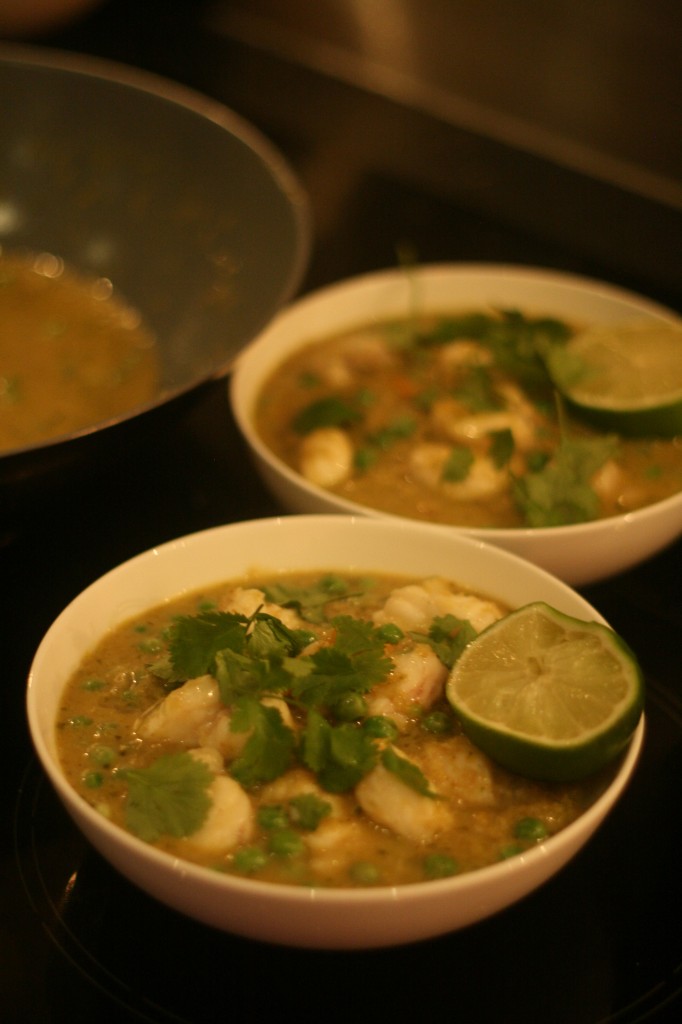 There's something about peas and hangovers that seems to make sense. My flatmate at university would make herself a massive bowl of bread sauce and peas when feeling worse for wear, an odd thing to eat in normal circs., but something I think we can all agree sounds like a good idea when feeling particularly under-nourished. Last night's laksa was exactly what was needed after the previous day's exertions.
Serves 2
For the laksa paste (use shop-bought otherwise)
2 shallots, peeled and roughly chopped
2 cloves of garlic, peeled
2 thai chillies, roughly chopped
A good thumb of ginger, peeled and roughly chopped
A thick handful of coriander stems
A stalk of lemongrass, roughly chopped
1 tsp ground coriander
2 tsp curry powder
1 tbsp vegetable oil
For the rest
1 tbsp vegetable oil
1 400g tin of coconut milk
500ml fish stock
1.5 tsp sugar
200g monkfish, cut into bitesized chunks
A handful of peas
100g vermicelli
A lime
Coriander leaves
Salt
***
– Stick all the ingredients for the paste in a blender along with a good pinch of salt and blend until smooth.
– Heat a little vegetable oil in a wok or saucepan and add the paste. Fry over a medium high heat for 10 minutes, stirring almost constantly. Add the coconut milk, fish stock and sugar and season with a pinch of salt. Bring to a boil and simmer for 20-30 minutes over a low heat.
– Boil the kettle and pour the water over the noodles. Add the fish and peas to the laksa and gently simmer for 4-5 minutes.
– Divide the noodles between bowls and top with the laksa. Serve with a handful of coriander and half a lime.