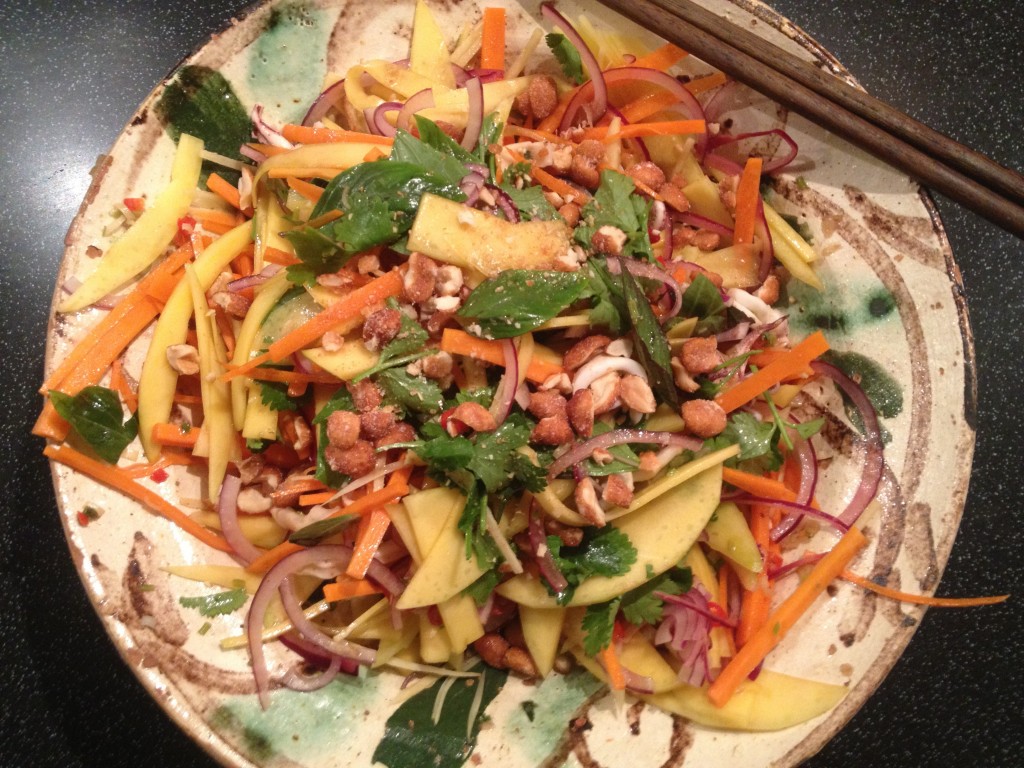 Before Christmas (happy new year, by the way) Rosie and I spent a week honeymooning in Vietnam, traveling from north to south and back and eating non-stop as we went. The following dish was one of many highlights, vague interpretations of which I imagine will continue to crop up on this blog in 2013.
*****
Serves 2 as a main, 4 as a starter
For the salad
1 mango, peeled and julienned
1 large carrot, peeled and finely julienned or shredded if you must (I wouldn't)
1 thumb of ginger, peeled and cut into matchsticks
1/2 red onion, peeled and finely sliced
A good handful of peanuts, lightly crushed
A good handful of Thai basil
A good handful of coriander leaves
For the squid
4 small squid, sliced
Half a stalk of lemongrass, finely chopped
A red chilli, deseeded and finely chopped (optional)
Juice of half a lime
Finely chopped coriander stems
A drop of groundnut or vegetable oil
For the dressing
3 tbsp fish sauce
3 tbsp rice vinegar
4 tsp palm sugar
1 fat clove garlic, peeled and crushed to a paste
1 birdseye chilli, finely sliced
A good squeeze of lime juice
– Prep the salad ingredients as outlined above. Make the dressing by thoroughly mixing its ingredients. Mix the squid with the other squid ingredients. Cover all until needed, refrigerating if necessary.
– Heat the oil in a wok or frying pan until smoking. Drain any excess liquid from the squid, then add the squid to the wok. Cook for 90 seconds – 2 minutes, tossing regularly. Chuck in with the other salad ingredients and the dressing and mix thoroughly. Serve.