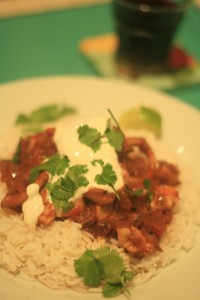 This is, for all intents and purposes, a pescetarian-friendly chilli con carne, but don't let that put you off. I've done my share of silly dieting, as you know, and am in  no way interested in repeating that hellish endeavour, but this year my resolution is to eat less red meat, even if that means missing out on getting my chops around some delicious horse. A chilli con carne sans carne, then, and every bit as delicious, I promise.
Serves 2
A good splosh of olive oil
A red onion, peeled and finely chopped
A clove of garlic, peeled and finely chopped
1 tsp ground cumin
1 tsp ground coriander
1-2 chipotle chilli, soaked in boiling water and finely chopped – or – 1 red chilli, finely chopped, plus 1 tsp smoked paprika
1 small glass of red wine
300g chopped tomatoes
300ml chicken or fish stock
1 large squid 'tube', sliced into rings
200g hake, cod, white fish, skinned and chopped into 2cm dice
Sour cream
Coriander
Lime
– Heat the oil in a largeish pan and add the onion and garlic. Cook over a low heat until soft, then add the cumin and coriander. Whack up the heat and fry, stirring continuously, for another minute or so, then add the chilli and wine. Bring to a boil and simmer for another couple of minutes, then in with the tomatoes and stock. Season with salt, pepper, and a pinch of sugar, then add the squid. Simmer gently for 45 minutes.
– Meanwhile get your ricey bits or whatever accompaniments you're having together. Add the fish and simmer for a final 5-7 minutes, then serve with sour cream, coriander, and a squeeze of lime.