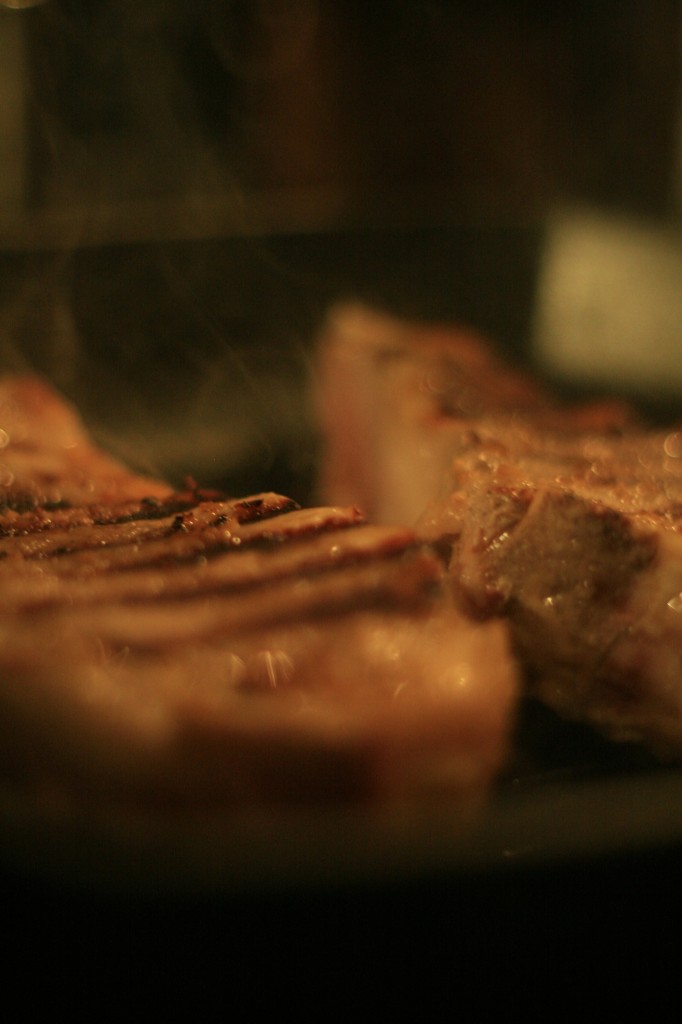 A pretty quick and painless midweek meal, this. Just needs some noodles or a baked sweet potato alongside, and p'raps some steamed greens.
Serves 2
2 pork chops
1 stick of lemongrass, finely chopped
1 clove of garlic, finely chopped
2 tsp fish sauce
2 tsp vegetable oil
For the peanut sauce
2 shallots, peeled and finely chopped
1 clove of garlic, peeled and finely chopped
A thumb of ginger, grated
2 red chillies, deseeded and finely chopped
150ml coconut cream
50g peanuts, finely chopped
1 tsp fish sauce
1 tbsp soy sauce
1 tbsp rice vinegar
1 tsp palm sugar
Oil
– Mix the lemongrass, garlic, fish sauce and vegetable oil and rub over the pork chops. Cover and leave to marinate for an hour if possible, unrefrigerated.
– Gently sweat the shallots, garlic, ginger and chillies in a little oil for 15 minutes or so, stirring occasionally. Add the remaining ingredients, then simmer for 15 minutes until thickened. Taste for seasoning and add salt or rice vinegar as necessary. Blend if you wish.
– Heat a griddle pan over a medium-high flame. Cook the pork chops for 5-7 or so minutes on each side. Rest for a few minutes, then serve with the peanut sauce and whatever your fancy.