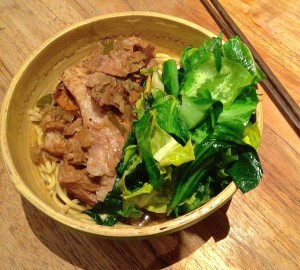 This is a terrific way of using up leftover pork belly, although it would undoubtedly be worthwhile to cook it from scratch. The house was inexplicably bereft of five spice powder, so here I use something of a homespun version, which works well even if the balance isn't quite right, or at least quite the same as in the shop-bought stuff. Anyway I like the way Szechuan pepper numbs the tongue.
Serves 2
Vegetable oil
2 shallots, peeled and sliced
1 stick of lemongrass, trimmed and finely chopped
2 garlic cloves, peeled and finely sliced
1 green chilli, finely sliced
1/2 tsp ground ginger (fresh grated better, didnae have any)
1/2 tsp ground cinnamon
2 star anise
1 tsp Szechuan peppercorns
1 tsp fennel seeds
4 cloves
500ml chicken stock
2 tbsp shoaxing rice wine
1 tbsp soy sauce
1 tbsp fish sauce
350g or so cooked (or raw) pork belly, sliced
***
Spring greens, destemmed and chopped
1 clove garlic, finely sliced
1 tbsp fish sauce
***
Egg noodles
*****
– Fry the shallot, lemongrass, garlic, and chilli in a little vegetable oil for 10-15 minutes, until softened. Meanwhile, grind the Szechuan pepper, fennel seed, star anise and clove as finely as you can. Add these, along with the cinnamon and ginger, to the pan, and stir for a minute or two, then add stock, soy sauce and fish sauce. Bring to a boil and simmer for 5 minutes. Add the pork and gently poach just below a simmer for 20 minutes (if already cooked), or an hour (if raw). Longer is fine, if necessary.
– When you're ready to eat, cook some noodles according to packet instructions. Heat a little oil in a large wok or pan over a medium-high heat, and fry the garlic for 30 seconds before adding the greens and fish sauce. Stir fry for 2-3 minutes until wilted. Serve the pork with the noodles, greens, and a good few spoonfuls of the cooking liquor.