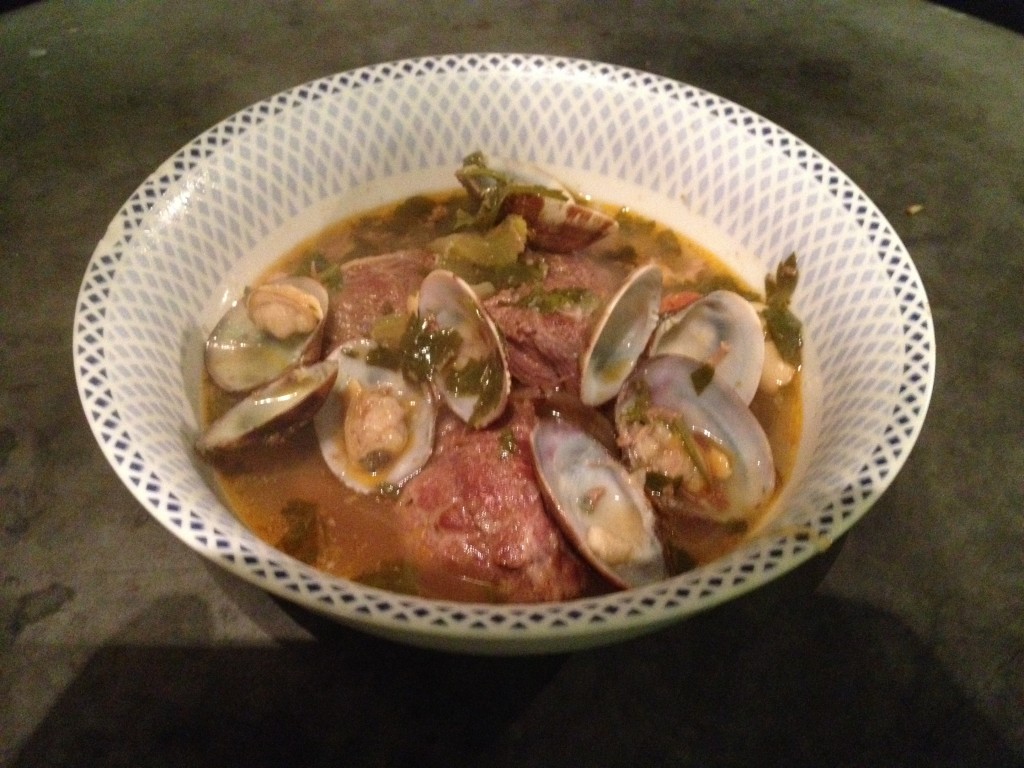 I tend not to blog supper club dishes. This might be because there's never time, amidst the ordered chaos of feeding four courses to twenty people, to take photographs. Or it might be because in August there's going to be a rather more substantial publication and I wanted to keep my powder dry. I couldn't possibly comment. Either way, last night I served this and bugger me if it wasn't one of the best things I've made in a long time.
My friend Sam (who I think is trying to muscle in on my patch what with his far-better-than-mine blog (seriously, it's utterly brilliant, read) and talk of some sort of supper club, but who is for now just being the lovely guy he is and helping out) brought some home-smoked olive oil which worked lovely but which can, of course, be omitted.
Serves 8-10 (easily halved)
300g cooking chorizo, roughly chopped
3 onions, peeled and thickly sliced
3 celery sticks, thickly sliced
4 cloves of garlic, peeled and finely sliced
2kg pig cheeks
500ml cider
1.5 litres chicken stock
A bay leaf
A bunch of thyme
2 tins butter beans
500g clams
A big bunch of parsley, finely chopped
Smoked olive oil
Salt and pepper, oil
– Heat a splash of oil in a large pan and add the chorizo. Fry until a little crisp and well-leached of oil, then add the vegetables. Season with salt and pepper and gently fry until softened. Say, 15 minutes. Meanwhile, brown the pig cheeks on both sides in a hot frying pan, seasoning as you do, and add these to the larger pot.
– Tip the cider into the pan in which you browned the pig cheeks, and scrape up all the caramelised bits. Simmer for a couple of minutes, then chuck cider and bits into main pot, along with with stock and herbs. Bring to a boil, then cover and cook over a very gentle heat for two hours. Set aside until dinner time if you like.
– Check over the clams and discard any that remain open or that are broken. Put them in a bowl and stick under a tap of running cold water for 10 minutes, then remove by hand (tipping into a colander will only cover them in the grit you've just removed). With the broth at just below a simmer, add the beans and clams. Simmer for 5 minutes or so, until all the clams have opened, then stir in the parsley. Check the broth for seasoning and serve with a drizzle of smoked oil and crusty bread.