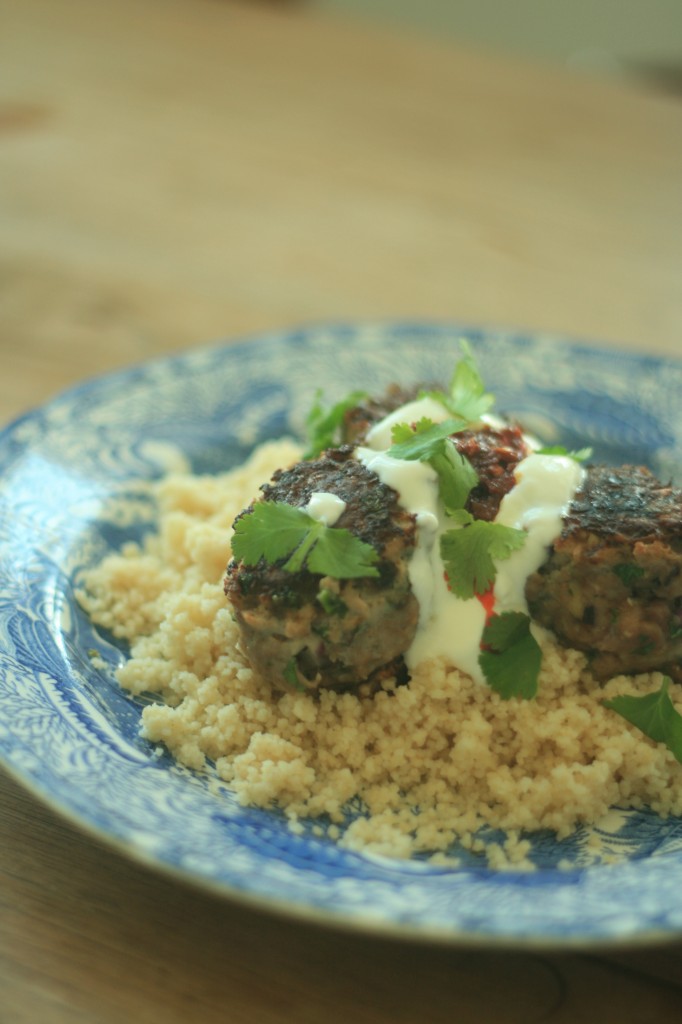 A kofta, as you probably know, is a meatball with swagger. How much swagger you give it is entirely up to you. I chucked in what was to hand and it worked really rather well. I'd never added pine nuts or raisins but there they were, winking at me, when I opened the cupboard, so in they went. They're not essential. Some well-chosen spices and whatever you happen to have to hand will do the trick.
Serves 2-4
400g lamb mince
A handful of pine nuts
A handful of raisins
Half a red onion, very finely chopped
A very small clove of garlic, crushed to a paste
A pinch of ground cloves
A slightly bigger pinch of ground cinnamon
An even bigger pinch of chilli flakes
Half a teaspoon of smoked paprika
A whole teaspoon of ground coriander
A good fistful of chopped coriander
An egg
Salt and pepper
To serve
Yogurt
Harissa
– Everything goes in a bowl. Be generous with the salt. Smoosh it thoroughly by hand. Don't blend in a machine it will be foul. Form into 8 or so balls. Chill if you can. I didn't. Get a pan hottish with a good splash of oil and fry for 12-14 minutes, turning the balls sporadically, until lovely and crisp.
– Serve with a thwack of yogurt and a little harissa. I ate them with couscous for lunch, though you could serve them with a little cucumber salad as a starter. Actually that sounds rather good. Do that.