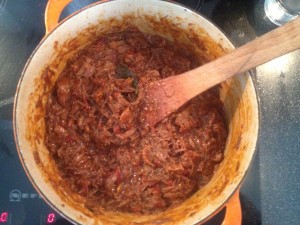 As you know, Thursday was American Independence Day. We drank bourbon sweet tea (recipe below) and devoured this take on a chilli con carne. You can buy chipotle chillies online, or buy chipotle chilli paste in the supermarket. Otherwise, just use 4 fresh chillies and a teaspoon of smoked paprika.
Serves 6
1.5kg pig cheeks
8 chipotle chillies, soaked in boiled water for 10 minutes
2 tsp cumin seeds
2 tsp coriander seeds
1/2 tsp ground cinnamon
Pinch of ground clove
1 red onion, peeled and finely chopped
2 cloves of garlic, peeled and finely chopped
1 bottle of pale ale
1 tin of tomatoes
2 tbsp tomato puree
A bay leaf
Salt, pepper, sugar
Oil
1) Heat a little oil in a heavy-bottomed pan and brown the pig cheeks a few at a time, seasoning with salt and pepper as you go. Remove to a plate.
2) In a dry frying pan, toast the cumin and coriander, then grind in a pestle and mortar. Finely chop the chipotles, or blend with a little olive oil, and mix with the spices.
3) Heat a splash more oil in the saucepan and add the onion and garlic. Fry, stirring regularly, until softened, then add the spice and chilli blend. Stir over a medium heat for a minute, then add the browned pig cheeks, ale, tomatoes, puree and bay leaf. Season with salt and pepper and a pinch of sugar. Cover and simmer over a low heat for 2 hours.
4) When the cheeks are tender, remove from the pan and shred with a couple of forks. Return the shredded meat and simmer for another 4o minutes to an hour, until thick and rich and glossy.
5) Serve with whatever you fancy. We had rice, a cabbage and fennel slaw, sour cream, and a hot chilli sauce from Tom Parker Bowles's Let's Eat.
Here's what we drank before:
Bourbon Sweet Tea
Makes enough to fell a small cow
A bottle of bourbon
700ml water
3 tea bags
100g sugar
Slices of lemon, lime and orange
Put all the ingredients in a jug and whisk to dissolve the sugar. Refrigerate for a minimum of 4 hours. Serve over ice.