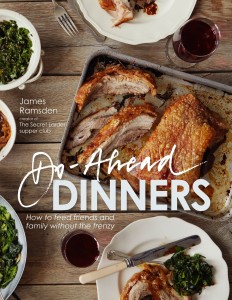 Well bust my buttons if it isn't pub. day for my new book, Do-Ahead Dinners! She has been a long time in the making but finally, wreathed in hardback, jammy with 150 recipes and beautiful photography, she is available at fine bookstores everywhere.
It's about cooking, naturally, but cooking without the heartache. You know those Come Dine With Me episodes where the guests sit there awkwardly for an hour while next door a would-be Heston gets his knickers in a twist? This is the opposite.
Each recipe is broken down into stages, detailing what you can do in advance (most of the recipe) and what you need to do before serving (very little). Chapters include breads, nibbly bits, soups, starters, mains, vegetables, puddings, little sweet things, and cocktails. It's a book anyone who enjoys cooking for others really can't live without.
And I have THREE copies to give away! All you need to do is comment below with your favourite dinner story. Could be the time you cooked the most kick-ass rib of beef of all time, could be the time your nan served a maggot-infested cheese to the Bishop of Norwich. I'm not fussed. An independent adjudicator will decide the three best stories and the winners will get a signed copy of Do-Ahead Dinners.
Look forward to reading your kitchen tales!
This is a book you really want. No fifteen-minute magic or culinary sorcery, just practical, staged cooking of the most sumptuous dishes
Yotam Ottolenghi