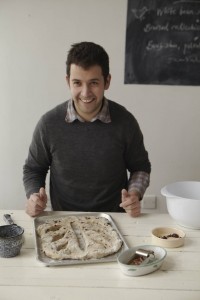 I was born at a very early age in Ripon, North Yorkshire, where I spent my formative years eating anything I could get my fat hands on – toadstools, strange berries, lords and ladies…these were the flavours of my infancy. Eventually I progressed to raw cake mix, fish fingers, and gingerbread men, and haven't looked back since.
Following a 3-month cookery course at Ballymaloe in Ireland, I started writing about food, doing stints at food magazines, writing for the university paper at Bristol, starting a blog, and eventually ending up here, with something approaching a freelance food writing career, a podcast, and a couple of books under my ever-loosening belt.
[Skip to the end…]
I now live in East London with my wife, baby, and dog.